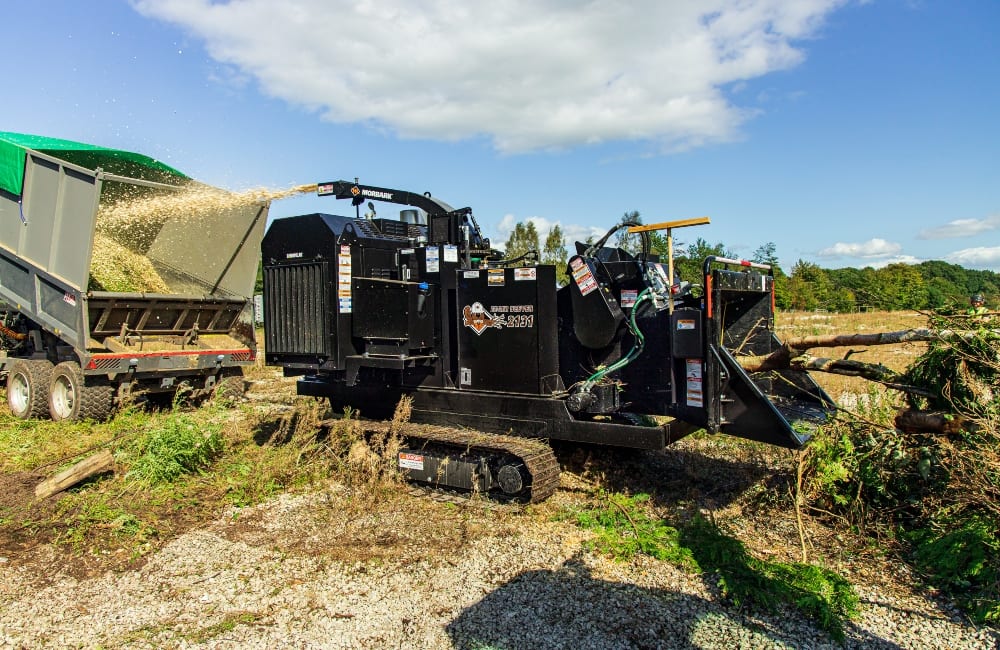 Big thanks to Ken Tophm for the following editorial in the latest Forestry Machinery Magazine…
In the modern world we live in customer expectation is a one-stop shop, South Manchester contractors Wainwright UK; have embraced the 'own the process' ethos, and built a business around self sufficiency, serving clearance, arb and forestry demands with a diverse range of equipment.
Words and pictures by Ken Topham
Richard Wainwright and Alex Corkill have a history with vegetation management, their business has evolved to cater to the three main sectors; they consider themselves best equipped, both mechanically and knowledge wise to engage in. From small domestic arb jobs, too difficult forestry thing operations, Wainwright UK have made the investment, to be able to shift assets and manpower to get the job done.
The last year has seen sizeable investment in equipment, Alex explained how he and Richard have come to their current place, "we've worked in the industry for over 35 years between us, and one of the obstacles we've seen, is people coming un-stuck on jobs; when relying on external companies for hire equipment, so we decided to keep investing in our own equipment, which has led to us expanding our services, we're very customer focused, which is expected in domestic situations, larger customers seem to expect sub hire, but we try to avoid it".
The Wainwright mindset, is to make sure their costumers are happy, "we don't go with a marginal gain approach, if the customer wants a tree chipping, and keep the chip for their own use, then we see as our job to satisfy their request without trying to make the job suit us; rather than the customer", Alex explained.
The site where we visited part of the Wainwright team, was near a forest in Cheshire, where the team were on a clearance job, employing some of their heavier equipment, including one of three Morbark chippers that the company had taken delivery of in 2019, Richard explained the decision, "they are market leaders in America, but don't seem to push export, a local company distribute them, CRJ services, who sell and support large recycling kit, so we were confident they'd look after us well in terms of back up".
Wainwright's bought two tracked machines, and one tow behind, with a Fendt tractor in their fleet local moves can be done by tractor and low leader, but more than a few miles and a truck is hired in. weighing 5.5 and 6.5 tonnes respectively so towing behind a 4×4 isn't possible. but the third unit is a wheeled tow behind machine, that can chip up to 12 inch material, at the large end for domestic customers, "the tow behind sits between domestic and commercial size, and allows us tow it with a pick-up, and the 18" and 16" machines suit our big jobs, the beauty of the tow behind is it crosses over to our domestic jobs, where smaller contractors might not have that capacity without subbing in, we can take on larger jobs on that side, and justify the the higher capacity machine with our commercial jobs".
Richard also mentioned that they had enough chipper capacity to expand their business with hire. "we have done some 'man and machine' hire, we want to keep our guys using the chippers, they are an expensive asset to let anyone use, and the potential for injury and machine damage is high, our guys are trained up, it's definitely an area we're trying to grow".
The stump grinder we saw in action is from the Bandit stable, the 2900T model is a savage piece of kit, 165 Hp engine, with a serious appetite for stump destruction, all in a package the size of a couple of quad bikes. Wayne Carter was in charge. A skilled operator, with plenty of experience, he showed us the 2900T in action, part of the clearance job was to remove a row of stumps along the fence line. The trees were only 10-12" trunks, and soft wood; was little challenge. The remote controlled unit will munch down two feet below the surface, while keeping the operator well away from the danger zone.
The compact machine can still fit through a small access gate, at 35" (88cm) wide, another cross over to domestic clients where a high capacity but compact form factor can save time, where a lower capacity machine would need more coaxing to munch through a larger stump, the Bandit will chew through large stumps without the operator having to manually push it around.
The Wainwright team also get into the woods, carrying out thinning work, Richard explained why their kit suits tight access sites, "we run a Takeuchi 8 tonne machine, with a Tigergrip tree shear that will go where a dedicated forestry harvester won't fit, and we hire a 10 tonne HTS forwarder trailer with a 6.7 metre crane, the combination of machines and hand cutting means we can do some very delicate jobs that have access limitations, some of which can be in more populated areas that heavy forestry equipment might be hard to use because of proximity to the public, they need upwards of ninety metres of safe zone because of chain-shot, if you're near houses, that's not possible", Richard explained.
A second excavator from Volvo, ECR 25D equipped with a Tigergrip grab works in conjunction with the chipper. The Morebark machines have a simple remote box, that is kept in the cab of the feeding machine, this enables the operator to stop the feed, and move the unit closer to the heap if needed. Peter Ashley was running the tractor and grab on his own, a JPL dump trailer has been modified to a chip-box, with the heavy bottom, the top can be easily removed for more arduous tasks, adding flexibility.
Another benefit of the excavators is the ability to tackle dangerously fallen trees, Alex said the ability to get hold of trees that pose a danger to their team; while clearing wind blown and storm damaged sites is invaluable, "we try to mitigate the risk, the last thing we want is an accident the machines mean we don't leave anything to chance".
Along with the dedicated equipment, Wainwrights run a Fendt 514 tractor possibly the most versatile piece of kit on the asset list, the Fendt is utilised in most jobs either hauling chip or shredding light vegetation, with front linkage and PTO, the driver can sit in comfort, with everything out front. Clocking 1000 hours per year, a tractor is used on nearly every job that isn't domestic.
Wainwright UK has grown as a business, and evolved to customer needs, as their workload has become more diverse, instead of choosing a client base that suits their business, they have instead built a business around that diversity, and recruited team members that can turn their hand from domestic to clearance, to forestry. The equipment inventory is also very diverse, and like the people, the machinery line up has a wide range of capacity and application.